Virtual (Online Event)
12:30 pm - 1:00 pm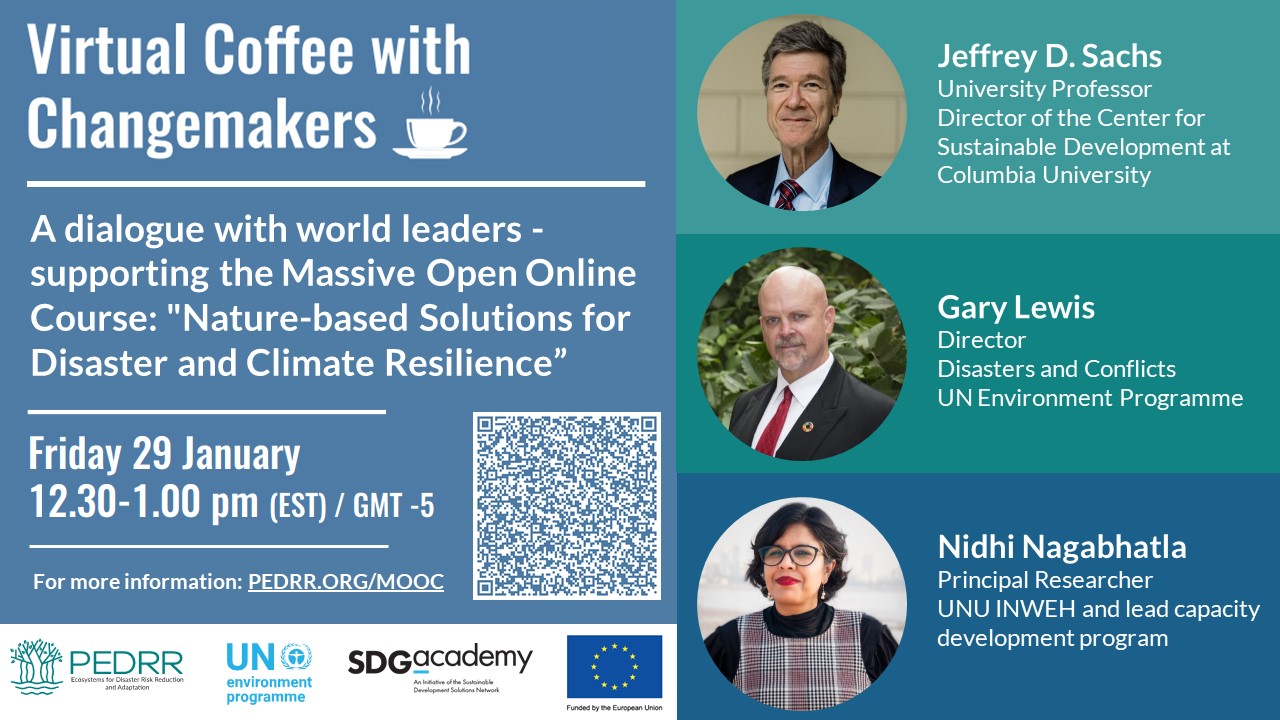 About the event
UN Environment Programme (UNEP) and the Partnership for Environment and Disaster Risk Reduction (PEDRR) start the new year with a new Massive Open Online Course (MOOC): Nature-based Solutions (NbS) for Disaster and Climate Resilience.
Join our four-part dialogue series with world leaders: Virtual Coffee Chat with Changemakers, short sessions where world leaders share their visions and ideas on how we can all become changemakers.
We are honored to welcome Professor Jeffrey Sachs as our special guest for this first "Virtual Coffee" session. Professor Sachs is the President of the UN Sustainable Development Solutions Network, which houses the SDG Academy MOOC platform where our course is being hosted.
Speakers:
Jeffrey D. Sachs is a University Professor and Director of the Center for Sustainable Development at Columbia University. He is President of the UN Sustainable Development Solutions Network and a commissioner of the UN Broadband Commission for Development. Sachs has been advisor to three United Nations Secretaries-General, and currently serves as an SDG Advocate under Secretary-General António Guterres. Sachs was twice named among Time magazine's 100 most influential world leaders and was ranked by The Economist among the top three most influential living economists.
Gary Lewis is Director of Disasters and Conflict in UNEP Geneva. Prior to this role, he served as UNEP Director of Policy and Programme. Gary has over 30 years of experience at the UN in various duty stations across the Middle East, Asia, Africa, Europe and the Americas.
Moderator:
Nidhi Nagabhatla is a Principal Researcher at UNU INWEH and leads their capacity development program. With 20+ years of experience as a systems science specialist, she has led, coordinated, and implemented transdisciplinary projects in various geographical regions, including Asia, Africa, Western Europe, and Canada. She worked with IWMI, World Fish Center, and IUCN, shaping their research and development initiatives and affiliated with Oxford University (UK), Leibniz University (Germany), and McMaster University (Canada) on science-policy interfacing agenda. She has published 150+ research papers and serves on the editorial of international journals and expert in working group of the UN. Dr Nagabhatla is the current Chair of the Partnership for Environment and Disaster Risk Reduction (PEDRR).
Event Recording: