ONLINE
11:00 am - 12:00 pm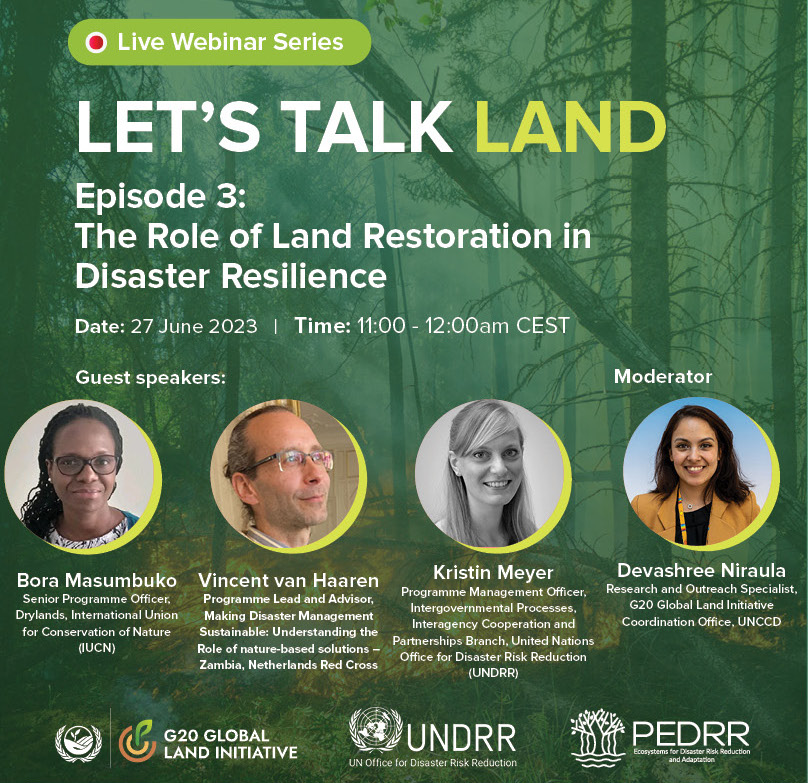 Background and Context:
Disasters are escalating in severity, number, and frequency. Annual disasters rose from 65 in 1973 to 398 in 2020, projected to reach 540 by 2030, according to UNDRR. Their impacts are substantial, affecting lives, communities, livelihoods, and economies. Policy-makers increasingly recognize the significance of land restoration for establishing secure and sustainable environments.
Ecosystem-based approaches like Eco-DRR are gaining traction, aiming to enhance ecosystem condition and resilience in urban, rural, and coastal areas. Recently, the G20 Indian Presidency formed the first DRR working group, fostering collaboration, research, and best practices within the Sendai Framework.
Distinguished Keynote Speakers:
Bora Masumbuko – Senior Programme Officer, Drylands, IUCN
Kristin Meyer – Programme Management Officer, UNDRR
Vincent van Haaren – Programme Lead and Advisor, 510.global Netherlands Red Cross
Organisers:
G20 Global Land Initiative Coordination Office, United Nations Convention to Combat Desertification (UNCCD)
Partnership for Environment and Disaster Risk Reduction (PEDRR)
United Nations Office for Disaster Risk ReductionCoalition for Disaster Resilient (UNDRR)
Recording
More information here