The first global geospatial tool for Nature-based Solutions
Geospatial information is widely used for risk assessments, for instance in hazards and vulnerability assessments. Ecosystems have rarely featured in such assessments even though they are an important component to risk and vulnerability reduction. In recent years, few local studies that integrate geoinformation on ecosystems in risk assessment have been undertaken. One of them is the UNEP's RiVAMP initiative which focused on Small Islands Development States (SIDS), to identify key ecosystems and modelled how they could reduce the impact of disasters. The methodology specifically assessed the relation between ecosystem services, in this case coral reefs and seagrasses in relation to coastal erosion.
However, the Opportunity Mapping tool is the first to offer a cross-mapping of ecosystem distributions and human exposure to hazards at a global scale.
By overlaying global datasets on ecosystem distribution and hazard exposure, the Opportunity Mapping tool highlights areas where ecosystem restoration and / or protection can be used to protect the greatest number of people globally.
Specifically, the tool highlights geographic locations where ecosystem restoration or protection are particularly appropriate for reducing the impact of certain hazards. Areas where there is an overlap between population exposure to hazards and low ecosystem coverage because they have been depleted, degraded or damaged), are highlighted as areas with opportunities for restoration (to reduce disaster risk. In areas where ecosystem coverage and population exposure to certain hazards is high, ecosystem protection, (e.g. through the establishment of protected areas), can further reduce disaster risk, by ensuring that ecosystems stay healthy and protect people and assets.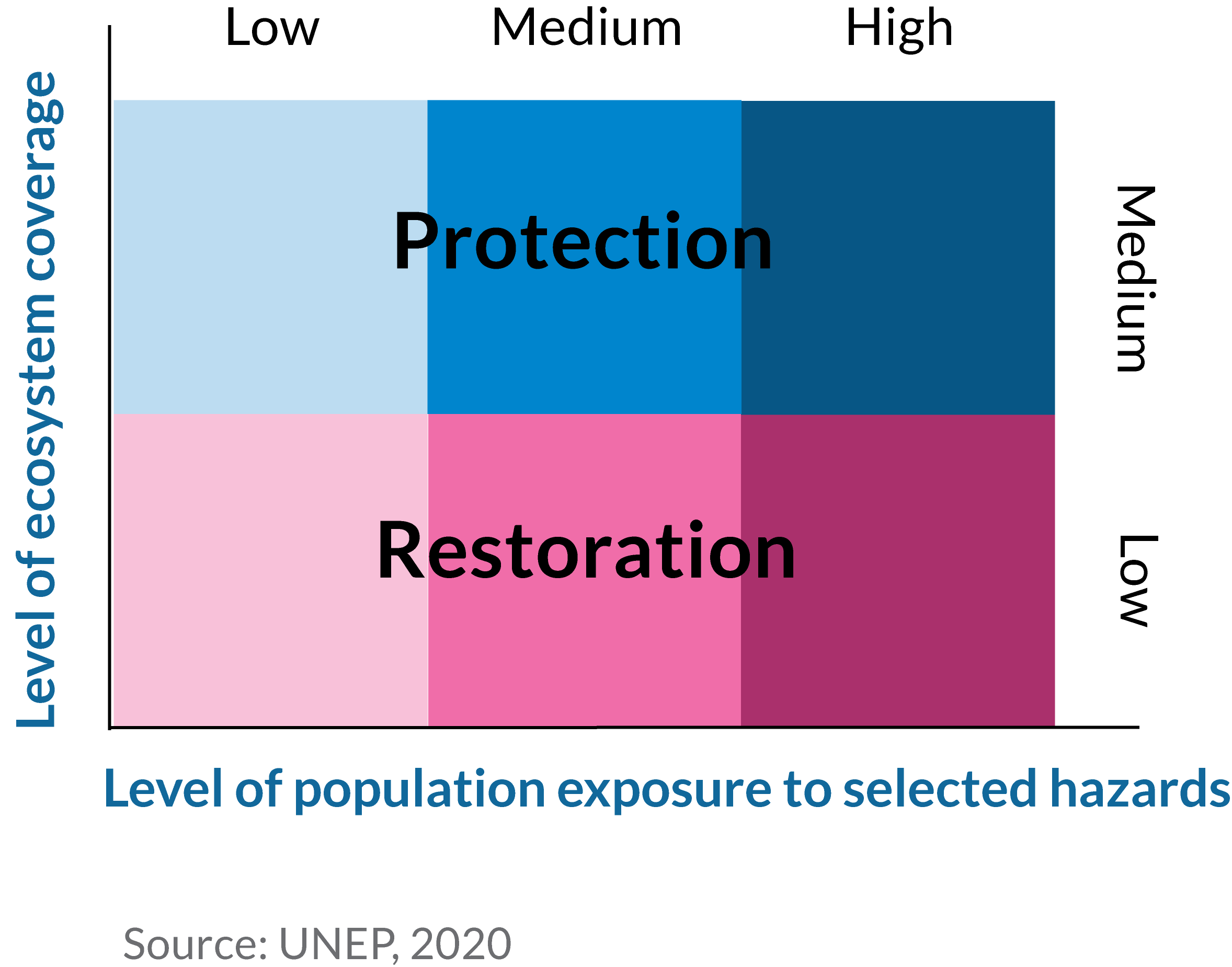 How can Opportunity Mapping contribute to improving disaster risk reduction efforts?
By raising awareness of the potential of ecosystem-based /nature-based solutions for disaster risk reduction, this tool can catalyze increased investments in Green Infrastructure (i.e. coral reefs, coastal forests, protection forests on steep slopes). In particular, the Opportunity Mapping tool can be tailored to assist Member States in reporting on Green Infrastructure as mentioned in the Sendai Monitor with regards to Critical Infrastructure (Targets C and D). This feature is something that could be programmed if there is sufficient interest by Member States and included in National Disaster Risk Reduction Strategies.
In addition, this tool could provide a first screening for large scale ecosystem restoration and protection initiatives for disaster risk reduction, such as initiatives implemented by the UN Decade on Ecosystem Restoration (2021-2030).
How to view the data?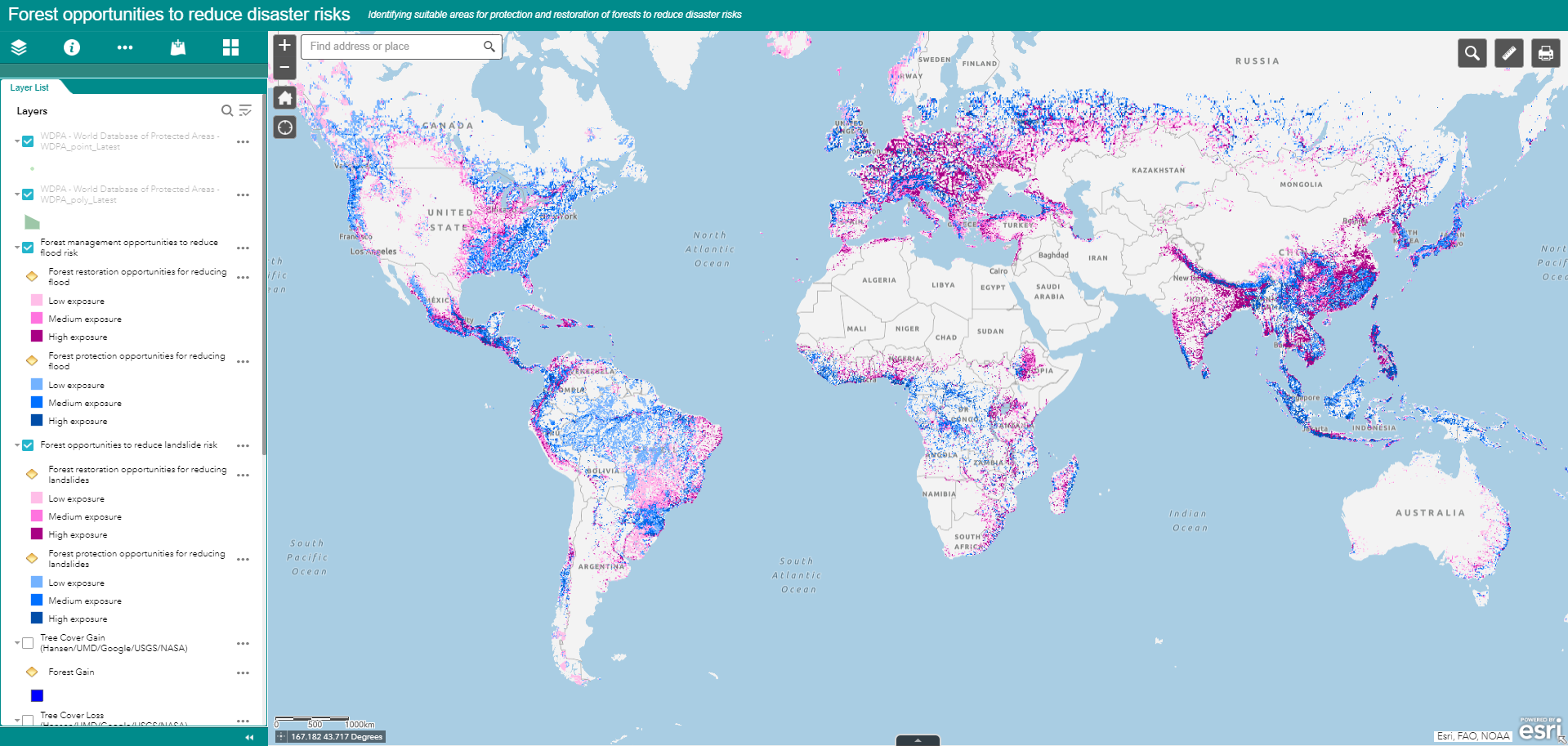 Currently, our online platform enables the user to visualize the global data of the Opportunity Mapping tool. This beta version allows the user to see the output layers in an interactive manner, by toggling on and off additional layers, zooming in and out from the global map, as well as uploading your own data.
Click below on the various ecosystem-hazard combinations that you would like to explore:
How to obtain the data?
The Opportunity Map datasets are available for download in TIFF format through this link: https://app.mapx.org/?project=MX-2LD-FBB-58N-ROK-8RH&language=en
View the animation below to see how to visualize and download data from the MapX platform.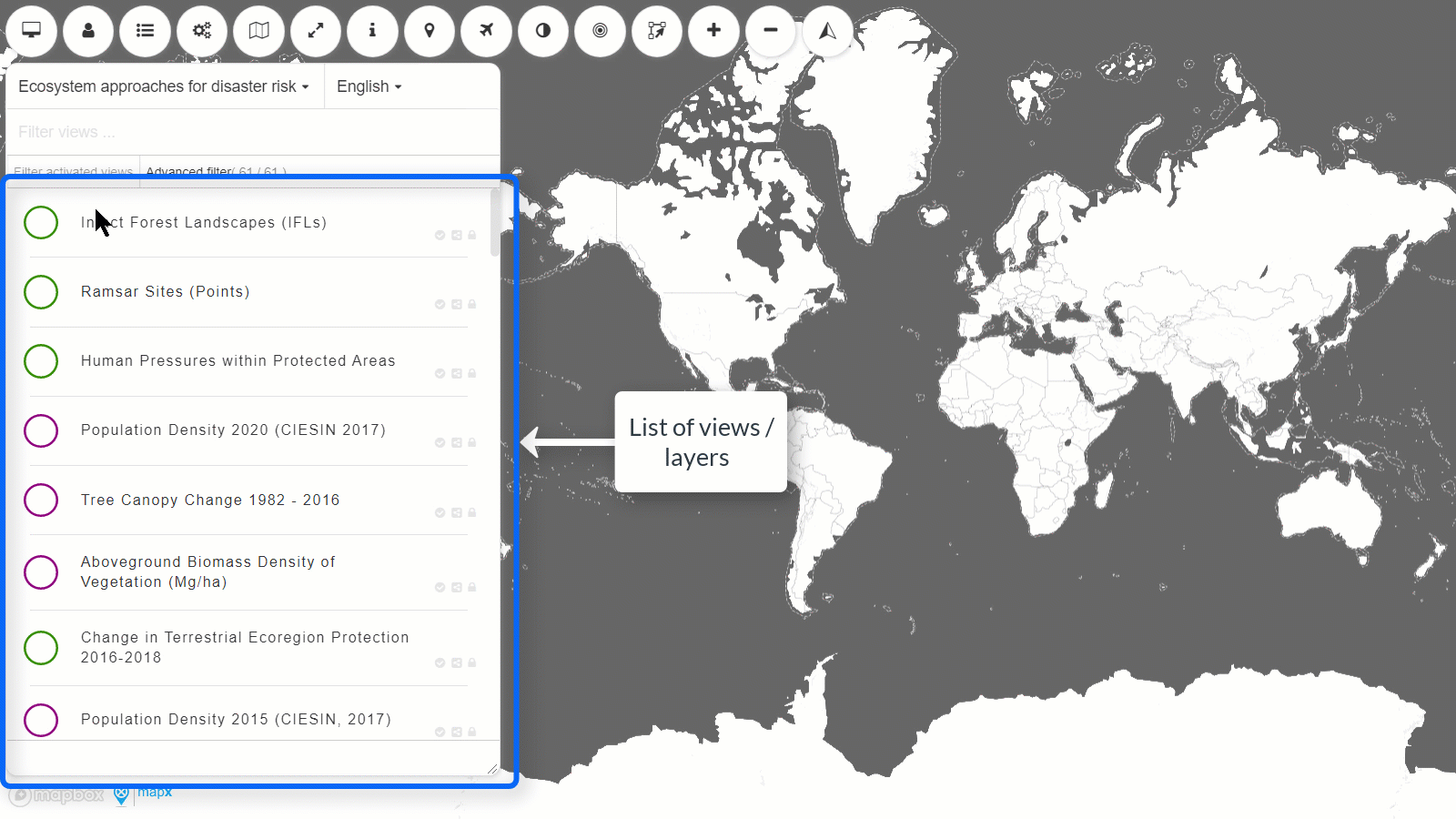 This work has been conducted jointly by UNEP and UNEP GRID-Geneva with funds from the European Union.