On the International Day of Disaster Risk Reduction, 13th of October, 2020 the United Nations Environment Programme (UNEP) and the Partnership for Environment and Disaster Risk Reduction (PEDRR), with the support from the European Union, launches two new educational products to increase capacity on Nature-based Solutions for Disaster Risk Reduction and Climate Change Adaptation.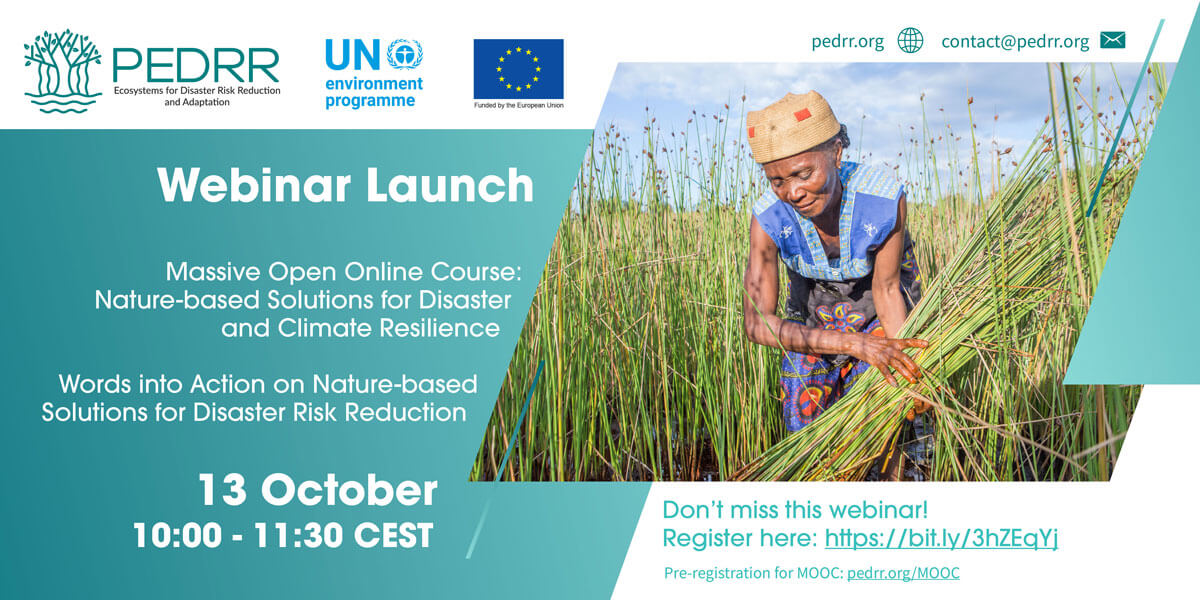 How do we address the climate emergency and the increasing risk of disasters in a holistic way while improving the health and well-being of people and the planet?
A more in-depth and practical product on how to increase resilience to climate and disaster risk has also been developed by PEDRR: the first ever Words into Action on Nature-based Solutions for Disaster Risk Reduction, as part of the UN Office for Disaster Risk Reduction's technical guidance series. This document is intended specifically for stakeholders who want to understand how they can apply Nature-based Solutions in their country's disaster risk reduction (DRR) strategy, development policies or other DRR plans. On the 13th of October, this product is launched for public review to allow for stakeholders to provide feedback and will remain open for three months.
Please join us in launching these two milestone products on International Day for Disaster Risk Reduction: 13 October 2020 from 10-11.30 CET. We will hear from a government representative, a youth leader, a civil society representative, the European Investment Bank, and UN agencies on how Nature-based solutions for disaster and climate resilience are important to them and how you can get involved.
Click here to see the webinar recording
More information here