Palais des Congrès, UN Hub in the Place Québec, Montreal, Canada
12:00 pm - 1:30 pm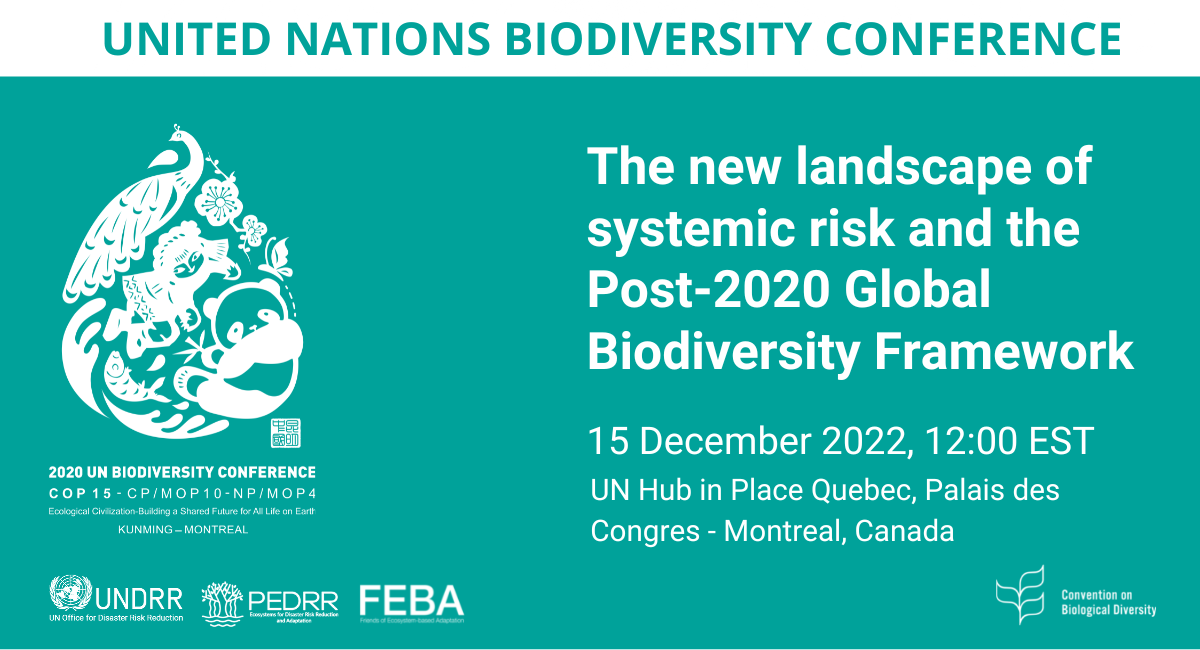 About
Together with the Partnership for Environment and Disaster Risk Reduction (PEDRR) and Friends of Ecosystem-based Adaptation (FEBA), the UN Office for Disaster Risk Reduction (UNDRR) is convening an event in the UN Hub on Thursday, 15 December 2022 (12:00 to 13:30).
This event will explore the challenges and opportunities for understanding, managing and reducing systemic risk in a world that has been transformed by the COVID-19 pandemic and the triple planetary emergency, especially biodiversity loss.
The increasingly cascading and compounding nature of risk requires a completely different approach to conventional disaster risk reduction and management, one that embraces the deeply coupled social-ecological consequences of the systemic nature of risk and focuses efforts on building resilient societies, which are underpinned by well-being economies founded on the principles of environmental, social and economic justice.
Additionally, as Member States now turn their attention to the adoption of the post-2020 Global Biodiversity Framework, it is a critical moment to elevate the importance of the role of biodiversity and ecosystem-based approaches for reducing disaster and climate risks and the urgency of strengthening risk-informed approaches to biodiversity conservation. To do so, we need to reflect and learn from past experiences, identify emerging trends, and rethink our focus on how to ensure risk-informed development, while protecting, conserving, restoring and sustainably using and managing ecosystems.
Speakers
Jane Madgwick, Executive Director, Wetlands International
Dr Angela Andrade, Chair of the IUCN Commission on Ecosystem Management and Director of Environmental Policy, Conservation International
Jack O'Connor, Senior Scientist, Environmental Vulnerability Ecosystem Services, UNU-Institute for Environment and Human Security
Swetha Bhashyam, Global South Focal Point of the Global Youth Biodiversity Network (GYBN)
More information here