Virtual
9:00 am - 10:30 am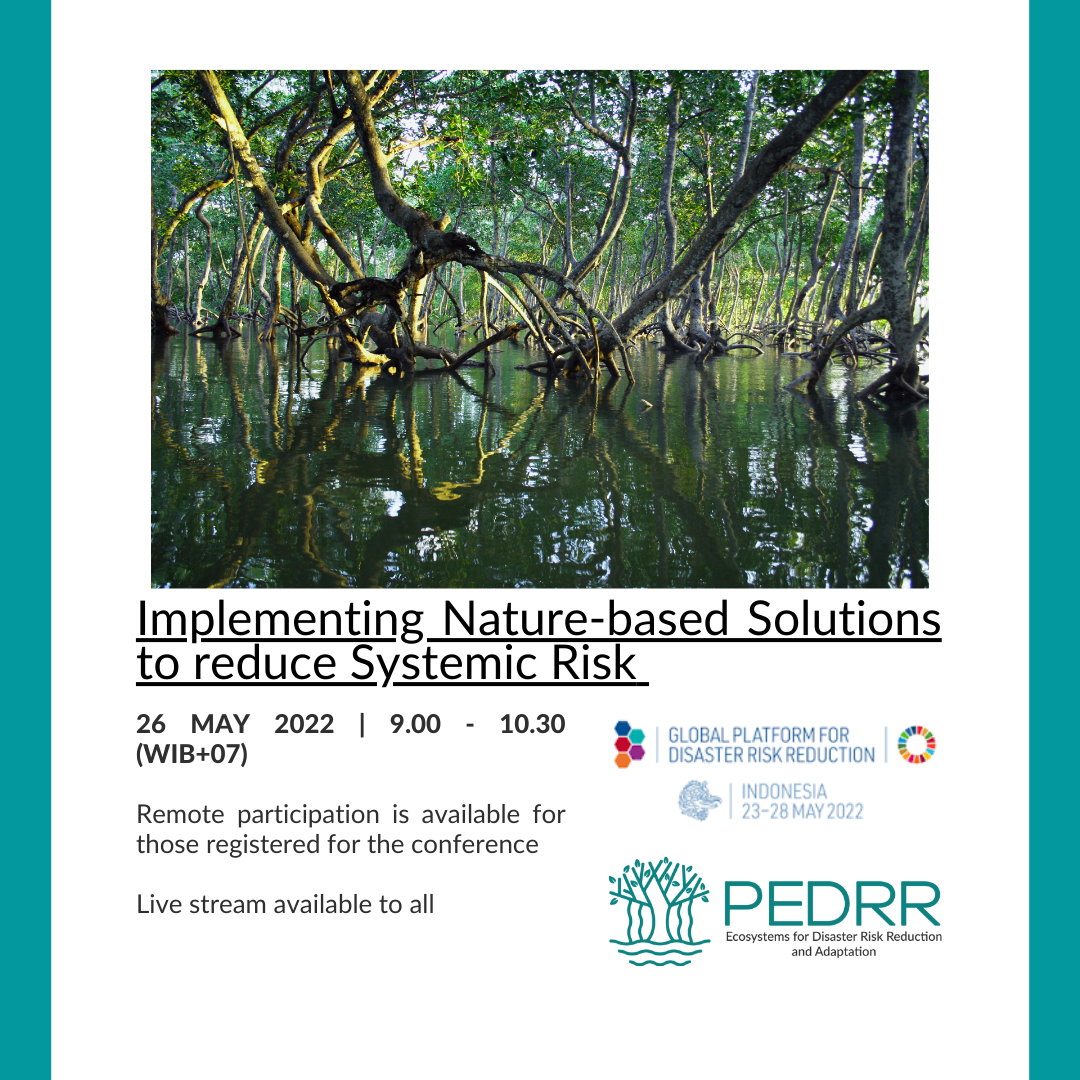 About
Over the last twenty years, 7,348 major disaster events were recorded, claiming about 1.23 million lives, affecting 4.2 billion people and costing the global economy approximately US$2.97 trillion. At the heart of these systemic risks as well as non-systemic disaster risks is our disconnected relationship with nature as well as the strong socio-economic inequalities between and within countries. This session is designed to:
(i) Showcase how and why Nature-based Solutions (NbS) need to be an integral part of decision-making for disaster risk reduction (DRR) and climate change adaptation (CCA), and how NbS can help address root causes of the COVID-19 pandemic, as well as climate risks and socioeconomic inequalities;
(ii) Generate commitment to further mainstream NbS into risk-based decision-making in all sectors by identifying means of action and success factors;
(iii) Share knowledge and best practices to address existing challenges and the potential and current barriers of implementation.
Session Objectives
This session will discuss how Nature-based Solutions (NbS) can be implemented in order to reduce systemic risks. More specifically, it will aim to:
Raise awareness and knowledge on the use of NbS for reducing and managing systemic risks
Encourage governments, policy makers, Civil Society Organisations and private sector to step-up their commitments in implementing, reporting and financing Nature-based Solutions for Disaster Risk Reduction, as well as in using technology transfers for the design and implementation of NbS for DRR and CCA
Inspire donors to allocate more considerable funds for the implementation of projects and initiatives aimed at promoting good practices using NBS.
Moderator
Luther Anukur – Regional Director, Eastern and Southern Africa Regional Office, International Union for Conservation of Nature (IUCN)
Speakers
Karina Whalley – Head of Public Sector, AXA Climate
Tabi Joda – Director, GreenAid international
Sonja Leighton-Kone – Acting Deputy Executive Director, United Nations Environment Programme (UNEP)
Carolina Díaz Giraldo – Director of Environment and Sustainable Development, Colombia, National Planning Department
Muchamad Saparis Soedarjanto – Director of Planning and monitoring of the Watershed Management, Ministry of Environment and Forestry, Indonesia
More information here