Story of the Month – Humanitarian Networks and Partnership Week – What role can Nature-based Solutions play in the humanitarian sector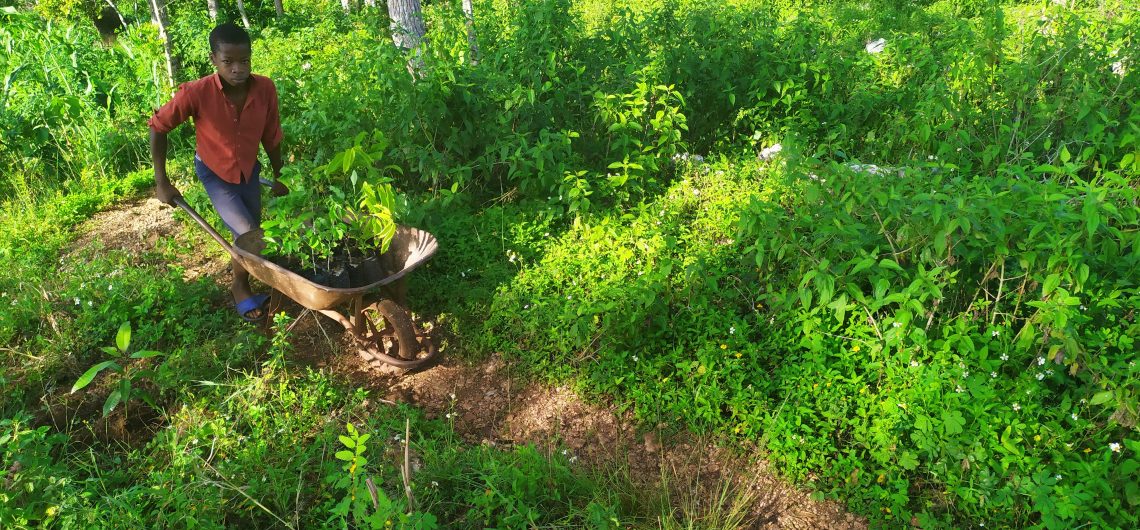 The HNPW will take place virtually from 19 April to 7 May, 2021. The event is cohosted by the United Nations Office for the Coordination of Humanitarian Affairs (OCHA) and the Swiss Agency for Development and Cooperation (SDC). The HNPW offers a unique opportunity for humanitarian networks and partnerships to meet and address key humanitarian issues. Participants from the UN, NGOs, Member States, the private sector, the military, academia and beyond will gather to discuss and solve common challenges in humanitarian affairs.
Have a look at the regularly updated Event Program and register now to join virtually.

A working group formed by the Partnership for Environment and Disaster Risk Reduction (PEDRR), the Friends of Ecosystem-based Adaptation (FEBA) and the Environment and Humanitarian Action (EHA) Network will be presenting a session on Nature-based Solutions (NbS) for Disaster Risk Reduction and Climate Change Adaptation in Humanitarian Contexts  on 3 May at 15h00 CET. This interactive session will cover two topics: Green recovery from COVID 19 and NbS in fragile contexts.
Why are Nature-based Solutions important in the humanitarian sector?
Every euro spent on prevention saves seven euros during emergency assistance during and after a disaster. This statement by the Netherlands Red Cross Princess Margriet Fund emphasizes that prevention might be the most efficient form of humanitarian aid and is especially important for disaster prone areas where the question is not if something will happen, but when it will happen.
Nature offers many ways to help address the climate crisis and reduce disaster risk. Well-managed ecosystems, such as wetlands, forests and coastal systems act as natural infrastructure and reduce the physical vulnerability of communities to many hazards. However, these natural buffers are often degraded by land and natural resource mismanagement and intensified climate change pressure. As a result, hazards are more likely to become disasters.
"Nature-based solutions are actions to protect, sustainably manage and restore natural or modified ecosystems that address societal challenges effectively and adaptively, simultaneously providing human well-being and biodiversity benefits." – IUCN 2016
As defined by the International Union for Conservation of Nature (IUCN), Nature-based Solutions (NbS) aim to deal with different societal challenges such as climate change, food security, health and disaster risk reduction (DRR). NbS for DRR, also known as ecosystem-based disaster risk reduction (Eco-DRR), helps to reduce disaster risks from storms, floods, landslides and other hazards through sustainable management, conservation and restoration of ecosystems.  In other words, the idea of NbS is to work with nature, rather than against nature.
Apart from cost-effective prevention, NbS offers multiple benefits as ecosystem services including carbon storage in biomass to reduce greenhouse gas concentration in the atmosphere.
PEDRR supporting the humanitarian-development (environment)-peace nexus
Implementing NbS in a humanitarian context is already being done. PEDRR partners, such as the International Federation of Red Cross and Red Crescent Societies (IFRC), IUCN and The Nature Conservancy (TNC), just to name a few, are working to improve the resilience of many in fragile contexts. For example, IUCN and UNHCR partnered to improve the refugee settlements through Nature-based Solutions. Their work together in Bangladesh was presented at the HNPW last year.
In February 2021, The Nature Conservancy launched the Blue Guide for Coastal Resilience, which aims toguide DRR planners on how to integrate NbS into their planning in coastal areas to support climate vulnerable communities adapt to climate change. Through analytical tools and processes, the guide helps DRR planners assess climate risks, conditions for NbS to work, as well as the costs of using them.
IFRC and Red Cross/Red Crescent National Societies have been implementing Nature-based Solutions in different ways. The Green Pearls Programme in Haiti is one example.
Case Study Haiti – Green Pearls Programme, Netherlands and Haiti Red Cross
With frequent earthquakes, hurricanes, and floods, Haiti is no stranger to hazards. While more than 40% of Haiti's population live in rural areas where agriculture is the main source of income, primary forest and ecosystems were degraded significantly in recent years. Deforestation and overgrazing diminished the natural buffer to hazards. Consequently, hillsides are prone to soil erosion and mudslides during heavy rainfall. Frequent hazards combined with high community exposure increases the likelihood of natural hazards becoming disasters. This makes Haiti, one of the world's poorest nations in the Western Hemisphere, even more disaster-prone, which reinforces a cycle of vulnerability and poverty.
In order to break that cycle the Green Pearl Programme was launched in 2019 by the Netherlands Red Cross together with the Haitian Red Cross. With the aim to restore Haiti's reputation as the Green Pearl of the Caribbean, a plan of action was designed supporting communities to become pearls: safe and thriving communities, living in a healthy balance between human needs, natural resources, and economic development. Working together with landscape restoration organization Commonland and local partner LEOS, a first pearl is currently being realized in La Vallée-de-Jacmel in the south of Haiti. 30 more pearls are planned over the next 20 years all over the country.
One of the fundamental aspects of this programme is landscape restoration. With a combination of green and grey infrastructure hillsides are restored in order to protect soil structure. Reforestation is a typical NbS approach to stabilize soil and facilitate water infiltration in order to prevent mudflows flooding down the hill. Where possible, plants and trees are selected that can be sustainably harvested for food and useful products, to be used by the communities themselves or sold as a way to diversify income. Likewise, small structures such as gabions or check dams are built to decrease the flow velocity and thus reduce erosion. In addition to the revegetation program emphasis is placed on sustainable land management awareness and practices. Therefore, manuals and other training material and tools are being developed that focus on environmental protection and community resilience.
The objective for each pearl is threefold: to build community resilience, restore ecosystems, and economically empower community members – all at the same time. As mentioned before, by working with nature, rather than against nature, all three objectives can be achieved simultaneously through NbS.
The Green Pearl Programme is initiated by the Netherlands Red Cross Princess Margriet Fund. It builds on a recent project supported by the Fund, which is summarized in this video.
Read more about the Green Pearl Programme:
Would you like to learn more about NbS? Join our online learning community and attain a free UNEP Certificate by completing our MOOC on Nature-based Solutions for Disaster and Climate Resilience. Registrations are open!
Author: Timo Bollinger