NYC doubles curbside rain gardens in green infrastructure program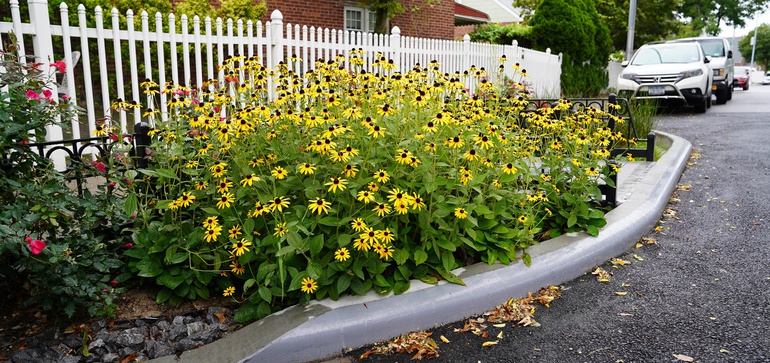 Author: Chris Teale
Publisher: Smart Cities Drive
Published: 30 Aug,2023
Dive Brief:
New York City will double the size of its green infrastructure program by building more than 5,000 curbside rain gardens, adding to the more-than 4,000 that have already been installed around the city.
The curbside rain gardens soak up stormwater to mitigate local flooding and combined sewer overflows, improving the health of the city's waterways. Full of vegetation, the rain gardens also work to improve air quality and mitigate heat islands, while offering a habitat for various animals.
The green infrastructure is in the city-controlled public right-of-way and does not disturb on-street parking spaces.
Dive Insight:
The city's expansion of curbside rain gardens is part of a broad push to fight climate change, which has included bold actions like a citywide Green New Deal, the sweeping Climate Mobilization Act and a plan to improve the resiliency of Lower Manhattan, which is prone to flooding from the Hudson River.
One of the effects of climate change that cities like New York must deal with is extreme rainfall, so the expansion of rain gardens should help absorb even more rainwater and prevent both flooding and sewer overflows, which can mean contamination of the water supply. That also is brought into sharp focus by the number of impervious surfaces like roads, sidewalks and tall buildings, so the more help available, the better.
"With more extreme precipitation, we do need more surfaces that will absorb and soak up and filter that stormwater," Emily Nobel Maxwell, cities program director at charitable environmental organization The Nature Conservancy, told Smart Cities Dive. "Curbside rain gardens play a really important role in that."
Curbside rain gardens also help beautify city streets, which can help improve mental and physical health of residents and visitors. That livability aspect has been studied in Louisville, KY, where researchers analyzed the links between human health and urban green space.
Carter Strickland, New York state director for the Trust for Public Land, which advocates for equitable park access, said that beautification aspect will be an immediate benefit. "It'll create a park-like feel on the streets where you'll have not just the street trees, which are great and provide shade and cool, but also a planted area around it that can be quite beautiful," he told Smart Cities Dive.
The city will need to manage the maintenance and upkeep of the new rain gardens, which could mean even more responsibilities for city work crews. Strickland said that while he is confident the city can keep up with the workload, it may also be an opportunity to engage community members and have them take care of them too.
"Just like there's enough people to take care of roads and the like, there has to be enough people to take care of these rain gardens," he said. Nobel Maxwell called it a "wonderful green jobs opportunity" for the city.
Recommended Reading:
More information here