LCAW 2020: Harnessing the power of London for global climate action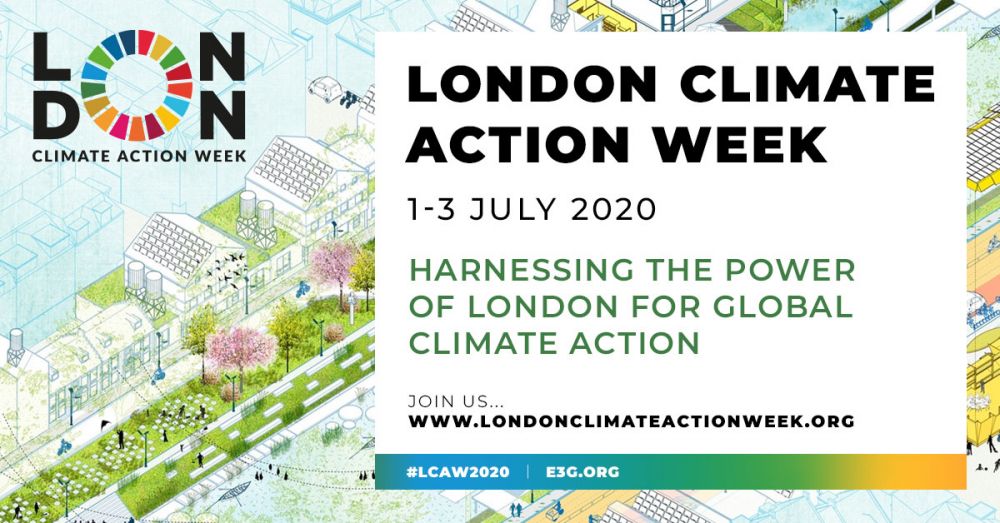 Author: Climate Action
Published: 19 Jun,2023
July marks the return of London Climate Action Week and the 2nd edition of the Climate Innovation Forum – the largest multi-stakeholder platform designed to advance the UK's low carbon economy.
London Climate Action Week 2020 (LCAW2020), taking place on 1-3 July, will bring together world leading experts and policy makers to drive the national and international Covid-19 climate policy response, prioritising green recovery.
Building upon its 2019 success, London Climate Action Week (LCAW) creates an opportunity for world leading experts to collaborate and work together, building on the opportunity for London to influence national and international climate transition.
LCAW is designed to bring international climate networks to London with the aim to build a high impact 'climate cluster' in London. The Capital hosts the largest concentration of profit and non-for-profit organisations, working globally to deliver the transition to a net zero carbon and climate resilient world, plus world leading finance, technology, and R&I sectors.
Last year, Climate Action's Climate Innovation Forum became the largest multi-stakeholder event during LCAW 2019. This year, the Climate Innovation Virtual Forum's goal is to become the largest multi stakeholder virtual event connecting climate policy decision makers, private sector innovators, sustainable finance investors and low carbon technologists to debate the opportunities a green recovery could offer.
The Climate Innovation Virtual Forum is just one of many important virtual and digital events across the 3 days. We encourage everyone to sign up London Climate Action Week social channels via: Facebook; Twitter and LinkedIn.
This year's digital LCAW will cover 3 core topics:
Green Investment for Economic Recovery
Politics of Collaboration and Competition
Solutions for Adaptation and Resilience
Climate Action's Virtual Forum marries these three themes together to explore how economic recovery packages can boost the economy in the short term whilst keeping on track for net-zero emissions by 2050. The agenda will focus on how governments and businesses must work together to scale low carbon technologies and support low carbon industries if we are to rebuild a more resilient economy,  society and environment.
Our Forum is ideal for professionals across the Public, Private and NGO sectors who are involved in energy, transport, buildings, urban planning, infrastructure, construction, financial services, conservation and technology. This forum is designed not to tell you what you need to do, but to stimulate debate and conversation between different sectors and explore the opportunities that could be presented if we pursue a green economic recovery agenda.
The Climate Innovation Virtual Forum's AI-based matchmaking and networking platform allows you to meet, set up calls and chat with senior peers and decision makers across multiple industries designed to connect national climate ambition with private sector innovation, technology and investment to Build Back Better.
For 2020, the Virtual Forum offers more than 3.5 hours of high-level complimentary sessions and aims to engage over 3,000 attendees online through our virtual platform to share ideas and discuss pathways for a green recovery.
With shorter sessions split between the morning and afternoon, selected delegates can choose the content that's right for them, watch sessions 'on-demand' to fit in with their diaries, meet and connect with peers in specific industries, set up side meetings to share ideas and form new relationships and have access to exclusive networking opportunities powered by AI.
Register today to join the conversation and help shape the debate for a green recovery.
More information here